COVID-19 Resource-Links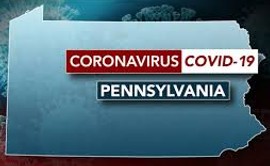 COVID - 19 Resource Links Below:

05/28/2020: Guidance for Law Enforcement and First Responders Administering Naloxone from www.samhsa.gov .
https://www.samhsa.gov/sites/default/files/guidance-law-enforcement-first-responders-administering-naloxone.pdf
05/21/2020: The PCPA received the attached resource, IACP - "Processing DUI's during the COVID-19 Pandemic from Jerry Spangler, Traffic Safety Resource Prosecutor, Pennsylvania District Attorneys Association.
IACP COVID-19 DWI Recommendations.pdf
04/23/2020: Document from the Office of Internal Governmental Affairs for Governor Wolf.  The document lays out the phased reopening of the Commonwealth.  
04/18/2020: Workplace Safety FAQs.pdf The Department will create a webform for employees to report violations that will be available at www.health.pa.gov.
COVID-19 Guidance for Essential Businesses Fact Sheet.pdf
The full guidance for essential businesses can be found here. For more information, visit:https://www.health.pa.gov/topics/disease/Pages/Coronavirus.aspx

The latest information on the coronavirus in the U.S. and worldwide can be found on the CDC website.  Interim guidance for critical workers can be found here. Help is available, contact the Crisis Text Line by texting PA to 741-741.
---
Statewide / Trout Season  Effective 0800 hours on Tuesday, April 7, 2020, the Pennsylvania Fish and Boat Commission (PFBC), in consultation with the Office of the Governor, Pennsylvania Department of Health, and Pennsylvania Department of Conservation and Natural Resources (DCNR) opened the statewide 2020 trout season. This measure allows properly licensed anglers and youth to begin fishing for and harvesting trout. All regulations, sizes, and creel limits apply. Anglers and boaters must abide by social distancing guidelines provided by the Centers for Disease Control (CDC).  Fishing is considered to be an approved outdoor activity. The below hyper-link contains further information:
https://www.media.pa.gov/Pages/fish-and-Boat-Commission-Details.aspx?newsid=316